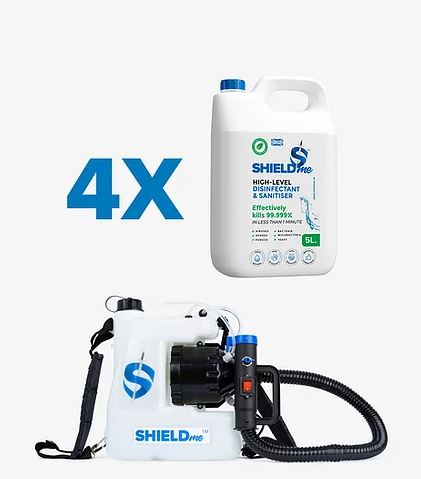 SHIELDME WORKS WITH THE POWER OF HOCI
A potent, non-sensitising anti-infectant that occurs naturally in the human body.
Our bodies produce HOCI when fighting off bacterial and viral infections, to destroy invading micro-organisms.
Shieldme is even gentle enough to be used to increase the shelf life of fresh fish and meat.
NO OTHER SANITISER IS GENTLE ENOUGH TO WORK THIS WAY
Surface Sanitising
Safe, non toxic, alcohol free sanitiser for all surfaces including wood, metal, upholstery, flooring and carpets.
SANITISER QUESTIONS
​What is SHIELDme Sanitiser?
SHIELDme anti-bacterial is an Electronically Activated Water containing Hypochlorous Acid (HOCI) as active ingredient, this formula was declared by FDA on 2002 as a high level disinfectant. SHIELDme is in compliant with British Standards & European Norms BSEN 14476, 14204, 1276, 13704, 13697 & 1656.
SHIELDme anti-bacterial is fast and effective against all know pathogens and effectively kills 99.999% of harmful germs, viruses and spores including influenzas, E-coli, C-difficle, MRSA and Norovirus in less than 30 seconds. 100% Natural, Non-Alcoholic, Non-Irritating and Benign to Human Skin. SHIELDme contains no preservatives, fragrances or essential oils.
SHIELDme anti-bacterial is produced from three everyday components: water, food grade salt, and electricity. SHIELDme Disinfectant is a stable packaged Hypochlorous acid (HOCl), a safe, environmentally friendly biocide which represents a monumental step forward in health care and hygiene.
​
Where is SHIELDme made?
SHIELDme anti-bacterial is made and produced in the UK. SHIELDme brand is owned by SHIELD MEDICA Ltd. the professional medical solution company based in Basildon, Essex and supplying emergency equipment, mobile medical units & consumables. SHIELD MEDICA Ltd. is part of a larger group of companies, NAFFCO with its World Headquarter in Dubai, having more than 15,000 employees, serving over 100 countries and over 6 million square feet of manufacturing facilities. "Passion to Protect" is more than just a slogan, it's a way of life for NAFFCO and its subsidiaries.
​
Why haven't I seen this before?
Hypochlorous was discovered in the 19th century by a British scientist. It was actually manufactured for the first time in the 1960's. There was always a problem however in that no one was able to make a stable version that had a shelf life so it could be packaged. The only organisations that could take advantage of this incredible product were large scale industrial and agricultural operations such as dairy and poultry units, where they produced non-stable Hypochlorous onsite for immediate use. Our team and the scientists have worked out how to stabilise the active ingredient so we can now make it available to everyone.
​
SHIELDme has been independently tested against COVID-19 Virus in the US by Microbac laboratories, Inc. and successfully kills the Virus at a contact time of 30 seconds.
SHIELDme has been independently tested by Eurofins ams Laboratories Pty Ltd in Australia to ASTM E 1053 using the methodology of EN 14476 (Quantitative suspension test for the evaluation of Virucidal activity in the medical area). This test is again a benchmark for effectiveness against Coronaviruses.
SHIELDme is alcohol free, skin friendly and faster acting than alcohol-based sanitisers. 
​What is the pH of SHIELDme?
The pH of SHIELDme sanitiser is neutral at pH7. This means it won't sting.
What is the Mixing Ratio?
DO NOT Dilute SHIELDme anti-bacterial, it is ready to use.
Will Shieldme work effectively on people and clothing?
SHIELDme is fine to allow to dry naturally on all fabric surfaces including carpets, curtains, upholstery, clothing and hair.
​
I am pregnant, is it safe?
Yes
​
Is it safe for kids?
Yes.
​
Is it safe for elderly people?
Yes. It is widely used for infection control with significant benefits in the aged care sector.
What if it gets in my eyes?
Generally safe, the spray is odorless and non-toxic. It will not act as an irritant. The sensitivity studies confirm there is no adverse impact on the eye. If ill effects occur flush eyes with plenty of water and seek medical attention.
​
What if I ingest the spray?
The mist is so fine this is unlikely, the toxicity studies show the LD50 to be about 3.5 litres, so even if you drank a whole bottle it would not be harmful. The spray is natural and not toxic. We do not recommend drinking the sanitiser, but there would be no harm if some was ingested.
​
Is it safe for people with any health conditions?
Please consult physician.
​
Can I use this on my toddlers hands to clean when out?
Absolutely, the product is perfect to use to clean your toddler's hands. It is safe and gentle on the skin but incredibly effective at eliminating harmful bacteria and viruses in seconds. The solution contains no alcohol, preservatives or fragrance and there's no need to rinse hands after using SHIELDme as a hand sanitiser as it contains no nasty chemicals.
​
Will it stain my clothes eg suede clothes and shoes?
No.
​
Will it make my clothes smell?
No.
​
What if I have a baby with me?
It is safe.
​
I have asthma. Is it safe?
It is non-sensitizing.
​
Is it animal safe?
Yes.
​
How green is the solution?
It is Eco friendly, once used it turns to mild saline (salt water). The active substance is identical to the molecule produced by the mammalian immune system. It is produced from natural ingredients.
​
How often do you need to be sprayed in one day?
As needed. For surface disinfection once a day is effective. For heavily used surfaces, eg after food preparation, spray and wipe after cleaning up.
​
If you are getting numerous 'doses' a day, what effects will this have?
Nothing, safe. It will help keep things clean
​
How long after first use does it expire?
The product has a shelf life of 12 months from point of manufacturer which is labelled on the bottle with the batch number. Usage of the product does not affect the expiry date.
​
Will this kill c diff & can I use it to spray the home & items in it?
SHIELDme anti-bacterial has been laboratory tested against Clostridium difficile and is highly effective against this bacterium. SHIELDme is reliable product for use on both human skin as well as for use as a hard and soft surface disinfectant, so it is fine to spray you home and items in it.
​
Can this be used to clean new piercings?
SHIELDme Disinfectant is highly effective to use as a disinfectant for new piercings. You can spray the area liberally twice a day or more if needed.
Is this suitable for vegans please?
The ingredients are water, salt and Hypochlorous acid only. None of which have been derived from animals.
​
How does this spray interact with materials (even more important if it's used at bars or similar)? Would it damage leather, wool, and suede?
No damage, as SHIELDme anti-bacterial is mildly saline, be sure to wipe off any metal surfaces after spraying to prevent any possible corrosion. It is fine to allow to dry naturally on all other surfaces. The best way to disinfect is to spray and wipe dry, this will deliver very effective hygiene and infection controls with no damage to the item being cleaned
How often would you have to apply this disinfectant in order to ensure that there are no viruses or bacteria on the surface? In other words, how long would the protection from bacteria, fungi and viruses last?
As long as no contamination comes again in contact with the same surface. Studies have demonstrated that continual use of the product steadily reduces the "bounce back" rate of contamination. This leads to a reducing level of risk.